This page is intended to provide the UC San Diego community, particularly staff, with access to resources related to the Equity in Mental Health series.


Upcoming Events
Harnessing our Collective Resilience: Restructuring 

our Learning Spaces for the Success of All
Session Details:  
This workshop includes two sessions, both in the Price Center East Forum. Food will be served.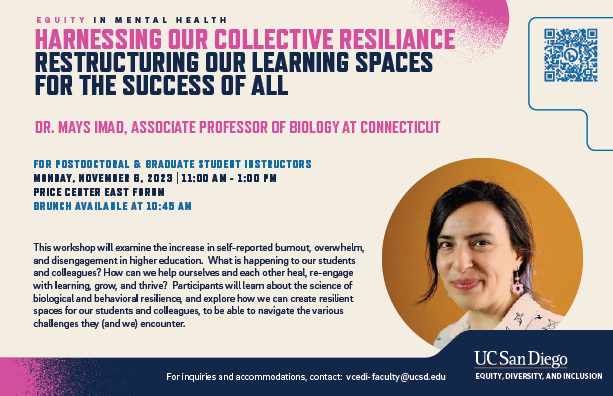 For Postdoctoral and Graduate Student Instructors 
Monday, November 6, 2023 
11 a.m. to 1 p.m.  
Register here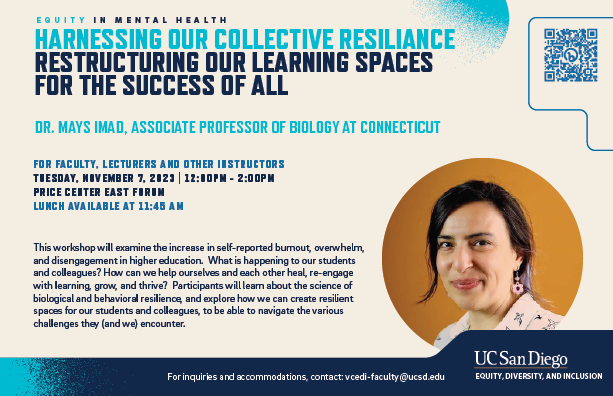 For Faculty, Lecturers and other Instructors 
Tuesday, November 7, 2023 
12 p.m. to 2 p.m. 
Register here
 
In this workshop led by Dr. Mays Imad, we will examine the state of higher education and the increase in self-reported burnout, overwhelm, and disengagement.  What is happening to our students and colleagues? How can we help ourselves and each other heal, re-engage with learning, grow, and thrive?   
 
Participants will learn about the science of biological and behavioral resilience, and the recent discourse on resilience in education highlighting the consequences of expecting students to withstand hardships. We'll invite educators to explore how to create resilient spaces in which colleagues and students, particularly those from historically underserved and marginalized backgrounds, are equipped with the necessary skills, resources, and support to navigate the various challenges they encounter, as well as to grow and learn from these experiences.  
 
By the end of the workshop, participants will have: 
Examined the multidimensional nature of resilience in the context of higher education, exploring its implications on teaching, learning, and overall student and faculty experience.  

 

Defined the relationship between culturally-responsive teaching and successful student engagement and learning. 

 
Developed strategies that equip students, faculty, and other instructors with the necessary skills and resources, enabling them to effectively navigate challenges and transform these experiences into opportunities for growth and learning.

 
About the Presenter:
Dr. Mays Imad's academic journey began at the University of Michigan–Dearborn, where she pursued philosophy and minored in chemistry. She earned a doctoral degree in cellular & clinical neurobiology, with a minor in biomedical sciences, from Wayne State University School of Medicine in Detroit. After a postdoctoral fellowship at the University of Arizona's Department of Neuroscience, she joined Pima Community College (PCC), teaching a variety of biology-related subjects. During her tenure at PCC, she founded their Teaching and Learning Center (TLC).
Currently an associate professor at Connecticut College, Dr. Imad is interested in understanding the social determinants of student well-being and success and conducts research on equity pedagogy. Her work reflects a deep commitment to equity and justice in and through education. With fervor, she advocates for institutions to pay close attention to intergenerational trauma and to prioritize healing and wellbeing. She is a Gardner Institute Fellow, an AAC&U Senior STEM Fellow, and Mind and Life Institute Fellow.
Suggested Reading: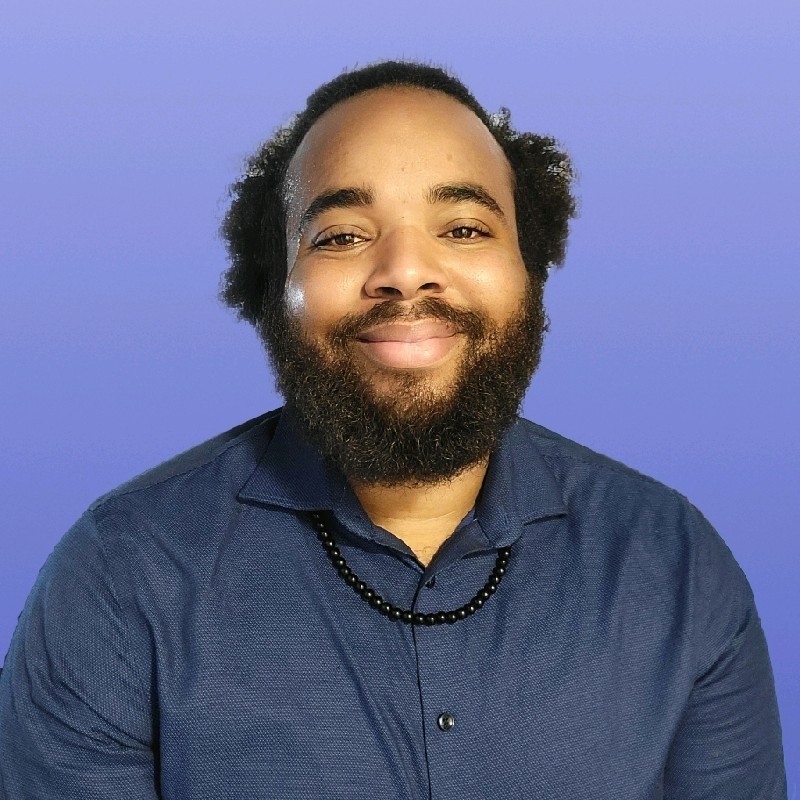 Podcast Series Host: Kyler Nathan, IV, MBA, D-Enterprise Program Manager at the Scripps Institution of Oceanography, Podcast Host of the Banquet Hall Podcast  
---
Kickoff Episode | August 2023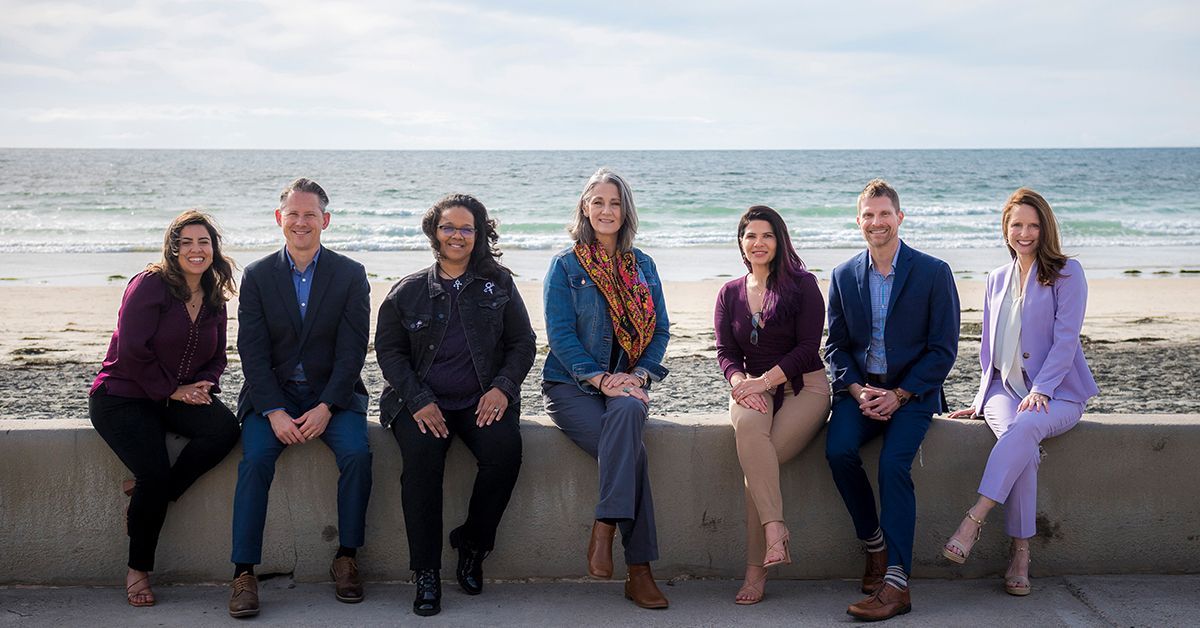 Guests: UC San Diego Faculty and Staff Assistance Program (FSAP)
Jennifer Triana, LCSW, FSAP Counselor
William Youngblood, M.S., LMFT, CEAP, CATP, FSAP Counselor
Cathy (Cat) Thompson, Ph.D., FSAP Counselor
Crystal Green, Ph.D., LMFT, CEAP, Director
Izabel Francy, LCSW, PMH-C, CEAP, FSAP Counselor
Bryan McNutt, Ph.D., LMFT, CEAP, FSAP Counselor
Christina Lambert, Ph.D., FSAP Counselor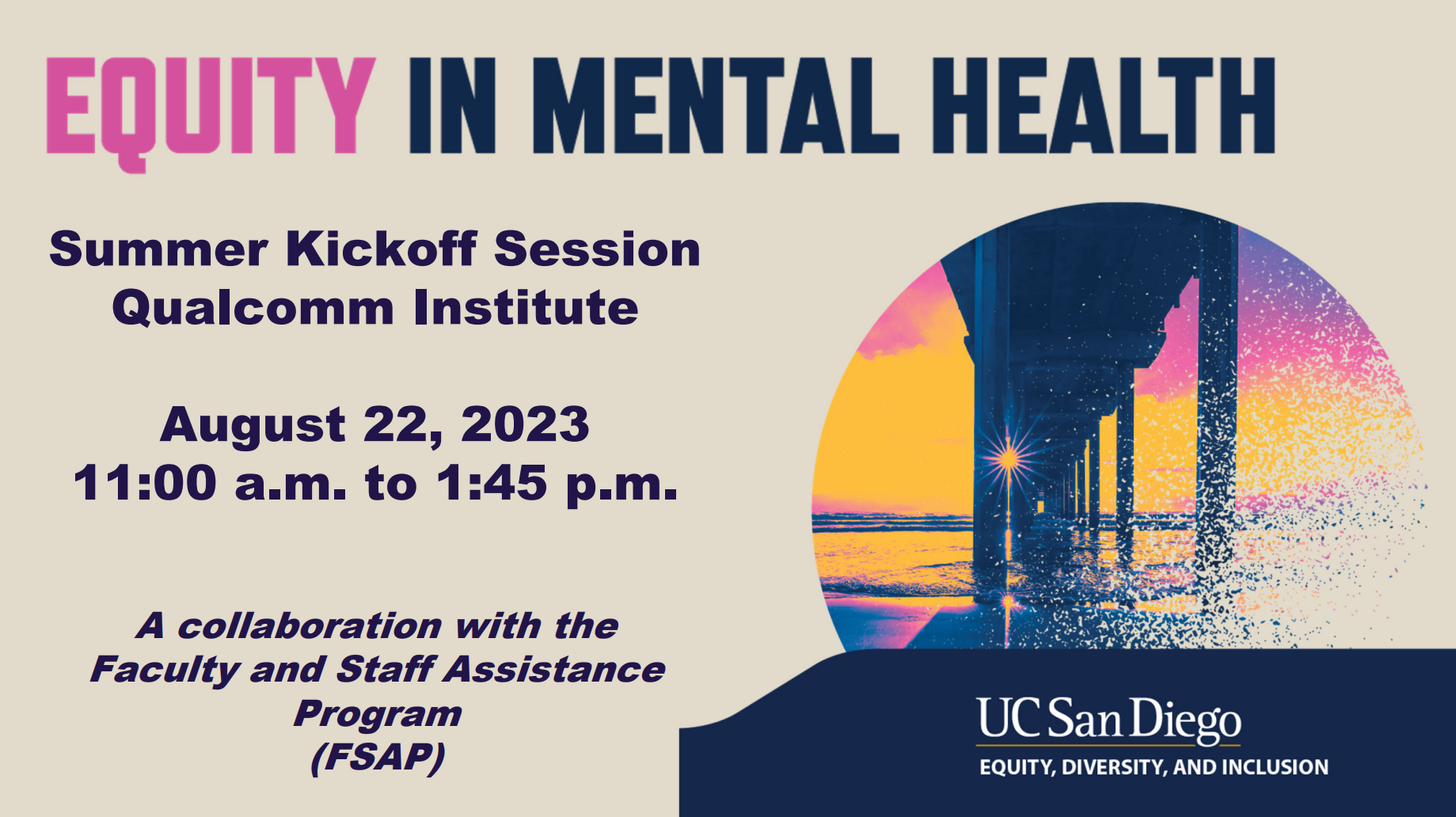 ---
The Equity in Mental Health Kickoff Event was hosted by the Office of the Vice Chancellor for Equity, Diversity, and Inclusion. The session began with a Mental Health Resources fair that included representatives and information on resources from the Faculty and Staff Assistance Program (FSAP), Counseling and Psychological Services (CAPS), Triton CORE (Compassionate Response Team), Center for Mindfulness, Recreation, and Staff Association Board and Affinity Groups. The agenda was created in collaboration with the UC San Diego FSAP under the leadership of Dr. Crystal Green, and the session focused on creating a foundation of knowledge for participants to build upon as we move through the series in the upcoming academic year.
Click the following links for more resources related to the event:
Healing Justice Practice Spaces: A How-To Guide

A Healing Justice Practice Space is an all-gender, allbodied, inclusive and accessible space for practicing and receiving healing that is built in partnership with social justice movement work and sites of political action.



It's a New Era for Mental Health at Work

 

(Harvard Business Review)


 In a follow-up study of their 2019 Mental Health at Work Report, the authors offer a rare comparison of the state of mental health, stigma, and work culture in U.S. workplaces before and during the pandemic. They also present a summary of what they learned and their recommendations for what employers need to do to support their employees' mental health.



 Take a critical look at equity, diversity, and inclusion policies

 

(American Psychological Association)

Evaluate your company policies and programs to ensure they support people of color, LGBTQ+ populations, and people with disabilities.
Becoming Truly Inclusive: Incorporating Diversity, Equity & Inclusion into Your Organization 

TEDx speaker and founder of Abbey Research, Dr. Kristen Donnelly discusses ways organizations can start to practice what they preach and take real action towards becoming truly inclusive. Dr. Donnelly introduces the term "radical inclusive authentic hospitality", discusses why shame is an unproductive emotion, and provides places to start that can help enable real change.



Black Women in the Workplace

In this episode of Therapy for Black Girls, Dr. Kecia M. Thomas, Dean, professor, and expert in the psychology of workplace diversity explores the complexities of color blindness in the workplace, overt and covert signs of workplace discrimination, and the critical research on diversity resistance in the workplace.



Race Equity, Intersectionality and Mental Health at Work

Mental Health First Aid England explores the relationships between race, identity, and the impacts on mental health at work. Aimed at Senior Leaders, HR, and Wellbeing professionals, this webinar will explore the importance of challenging from the top in order to address inequities in the workplace and creating a mentally healthy culture.



Emotional Inclusion and Mental Wellness 

Dr. Indigo, a success, mind and wellness practitioner, talks about workforce diversity, the stigma around mental health in the workforce, equality in corporations, why it's important to have someone who will listen to you in the workplace and so much more.



Transformational Leadership

Dr. Thema speaks with Executive Coach Patrice Ford Lyn about being a leader. They discuss the qualities of a good leader, ways to handle those who are resistant to change, and unique challenges and solutions for leaders with historically excluded identities, including those who are BIPOC, Queer, and/or women.



Trauma Informed Teaching & Learning with Mays Imad

Dr. Mays Imad discusses holistic approaches to teaching and learning in this deeply informative and highly relevant conversation for all - especially those involved in formal and informal education, training or mentoring. 



When Psychological Safety & Emotional Inclusion Come Together

Novartis Professor of Leadership and Management at the Harvard Business School Amy Edmondson dives deep into what Psychological safety means, how it helps teams and organizations create a workplace environment where people can speak up, feel seen, be heard and understood. 



Workplace Wellbeing: Supporting Mental Health in the Workplace Webinar

During this webinar, speakers discuss the importance of supporting employees' mental health in the workplace; how to recognise when an employee is struggling; implementing inclusive mental health campaigns at work and Allan Reid's personal mental health journey. Featuring guest speakers Leyla Okhai, CEO and founder of Diverse Minds, and EDI Consultant Allan Reid.
Supporting the Hidden Worker: Supervising Diverse Employees 

This presentation and interactive workshop will explore some of the main workplace stressors affecting diverse-identified employees, with primary consideration of the pervasive obstacles associated with minority stress.  We will explore opportunities that leaders have to provide culturally responsive support for diverse-identified employees, including effective supervisory engagement that fosters psychological safety and models a learning culture of work.

  Email Bryan McNutt for more information.



BIPOC Support Group

This monthly group meeting will provide a supportive online conversational space created for any UC San Diego campus employee identifying as BIPOC (Black, Indigenous, and People of Color). This space is held with the intention of connecting around our identities and exploring our shared common experiences. Email Cat Thompson

 

and/or

 

Jennifer Triana for more information. (Third Tuesday of the month from 12 - 1 p.m.)