Help Us Propel Possibilities for All
The Office for Equity, Diversity, and Inclusion is advancing UC San Diego's commitment to creating a climate of respect and understanding.
With your philanthropic support of diversity, we can make waves for the greater good. We do this by opening more doors to higher education, taking an active approach to teaching and learning, and blazing new pathways to solutions that enrich our community and our world.
Help us pursue our vision of a university that reflects and serves all segments of society. Explore our giving priorities below and make a gift today.
The Office of Equity, Diversity and Inclusion's greatest reward is our community members feeling that UC San Diego is a place where they can flourish – in all of their full identities. However, true "inclusion" is never done. We continue to learn, grow, and create conditions for students, faculty and staff to succeed, and our resource centers and programs greatly assist us in the considerable work that still needs to be done.
Your gift matters, and will advance UC San Diego as a destination, where self-awareness is learned, academic excellence is supported, leaders are developed, and open dialogue is encouraged. Your support is a compassionate gift that empowers those who seek wellness and belonging, and pushes our movement for racial justice forward.
UC San Diego's campus resource centers, programs, and equity, diversity and inclusion initiatives are an integral part of that movement as they promote inclusion and build affinity among a diverse population of students, faculty, and staff members. These resources provide access, a sense of belonging, and social mobility opportunities for our growing community and contribute significantly to a socially just campus.
Campus community centers are welcoming spaces where students can develop cross-cultural awareness, grow in leadership, and discuss issues openly. These centers are a vital part of fostering a university where everyone feels included, respected, and valued.
Black Academic Excellence Initiative
Latinx Academic Excellence Initiative
Asian Pacific Islander Middle Eastern Desi American Programs and Services
We want to open our doors to talented students and renowned faculty from all backgrounds. Through student scholarships and fellowships, we are able to broaden opportunity for first-generation and historically underrepresented students. Professorships enable us to recruit and retain diverse and distinguished faculty with an array of expertise.
The Office for Equity, Diversity, and Inclusion Innovation Fund provides flexibility to quickly implement initiatives that revolutionize teaching and learning, ignite discovery, empower inventive minds, and contribute to a campus climate that is open and inclusive.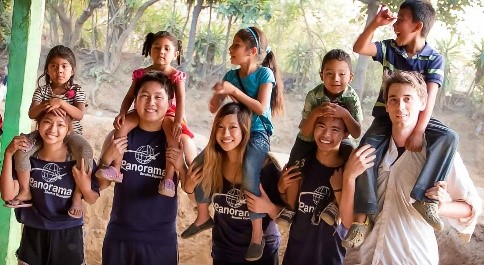 Several years ago, municipal law attorney Michael Estrada would never have guessed that he would be digging ditches in Appalachia with a group of 18 to 23 year olds, but sometimes life takes you where you least expect it.
It all started when Estrada, a UC San Diego alumnus, was diagnosed with throat cancer. While undergoing treatment, he read an issue of the campus's alumni magazine, Triton, which featured an article on a fellow alumnus who supports the university's Alternative Breaks program. As part of the service-learning organization, students embark on global service-learning trips as a meaningful way to give back to society.
"It made me look at all the things that affected my life, and UC San Diego was an important one," Estrada recalls. "Alternative Breaks sounded interesting, and I recognized that it was time to start doing things I had put off. I was overwhelmed by the esprit de corps – the enthusiasm of the students for the program and the projects."
With his cancer defeated, Estrada reached out to learn more about the program. After three years of providing support and taking part as a mentor, Estrada established the Michael Estrada Alternative Breaks Scholarship Endowment with a gift of $50,000 to help ensure that students in need could participate in the program. He also designated the newly established endowment as a beneficiary of his estate.
What are YOU passionate about? Can't find the area that you would like to support? Visit our Giving site, or contact us to learn about or create new giving opportunities.
John Duca 
Director of Development, Campus Initiatives/Diversity
(858) 534-8305
jduca@ucsd.edu