Strategic Plan for Inclusive Excellence
The Strategic Plan for Inclusive Excellence is a collective framework for campus engagement, strategic action, assessment, and accountability to shape the future of UC San Diego. Inclusion is intentional and a diversity of voices is critical to our success at UC San Diego. Our vision is to create a learning and working environment where all feel welcomed and valued, which in turn leads to excellence in the classroom and workplace.
We believe all members of our campus community deserve respect and equal opportunity to thrive. That is why we met regularly with campus community members to get your input on shaping the future of diversity and inclusion at UC San Diego through the Strategic Plan for Inclusive Excellence. We remain committed to being transparent and proactive in inspiring campus-wide engagement with the Plan.
To learn more, email us at diversity@ucsd.edu.
Strategic Plan Core Tenets
The Strategic Plan for Inclusive Excellence identifies core tenets central to achieving our vision for inclusive excellence. These core tenets are: Access and Success, Climate, and Accountability.
Access and Success: Attract, retain, and support a diverse faculty, staff, and student body with the goal of reflecting California demographics and achieving institutional excellence at UC San Diego.
Climate: Create and foster a positive and welcoming climate where we value, include, and support all at UC San Diego.
Accountability: Ensure institutional accountability through processes and structures that strengthen UC San Diego's clear and continuous commitment to equity, diversity, and inclusion.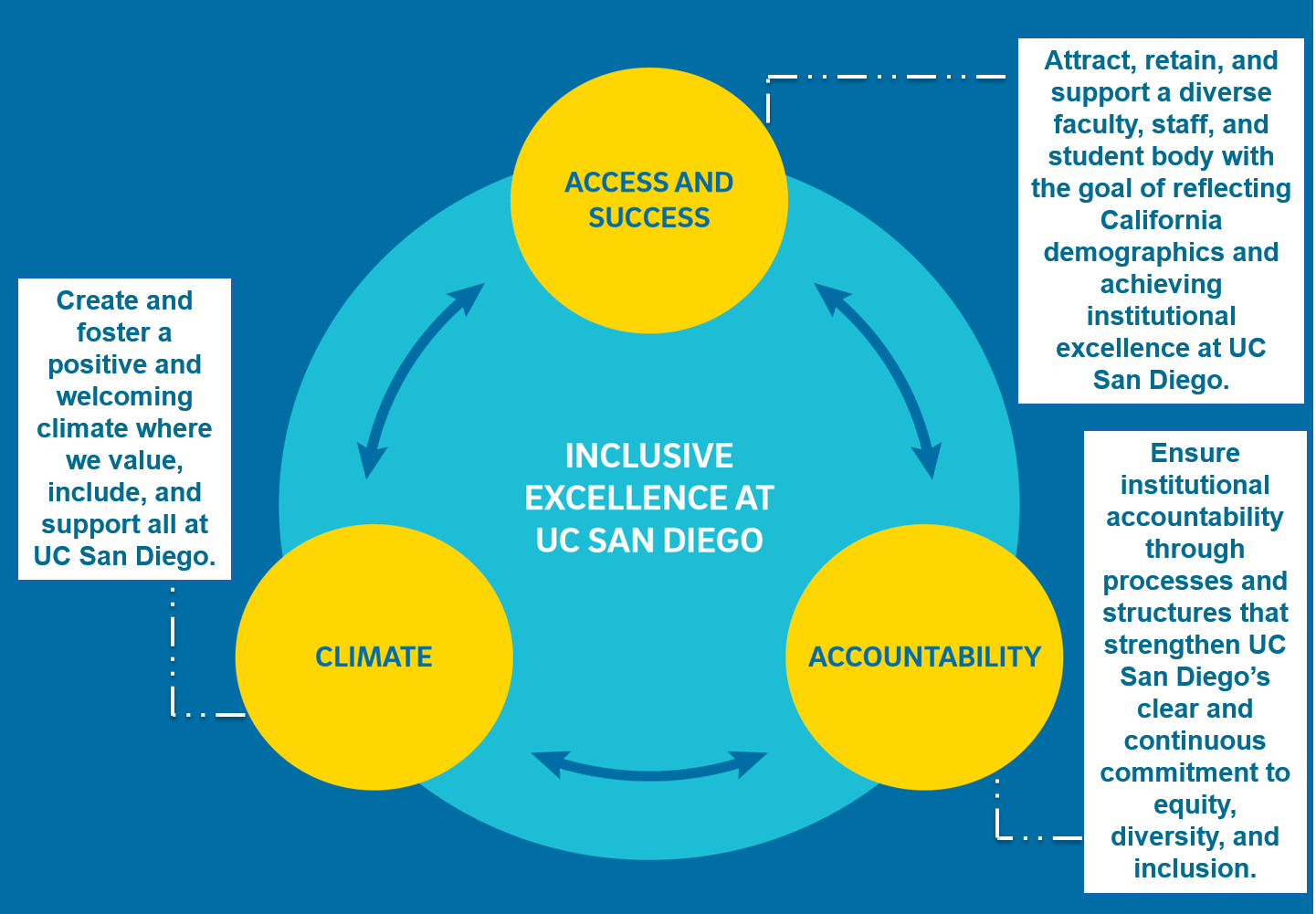 A Campus-Wide Effort
Drawing on the core tenet of Accountability, our office has held a series of meetings where leaders across campus present how their units, departments, and areas contribute to the core tenets of the Strategic Plan for Inclusive Excellence. Accountability reports and presentations are assessed by the Chancellor, the Executive Vice Chancellor, and the Vice Chancellor for Equity, Diversity, and Inclusion. 
Download the Strategic Accountability Process slide deck.


Best Practices
The following Best Practices reports outline a variety of ongoing EDI efforts that were reported by campus leaders in the Strategic Accountability meetings. 
Best Practices Reports
Our EDI Best Practices reports, compiled from unit/divisional reports and presentations submitted for the UC San Diego Strategic Accountability meetings, summarize ongoing university-wide EDI efforts.
Download Best Practices: Faculty, Staff, and Students.
Download Supporting Our Black Community at UC San Diego.
Download UC San Diego Initiatives Supporting HSI Status.
Campus Community Engagement